Should I Stay or Should I Go?
June 6, 2019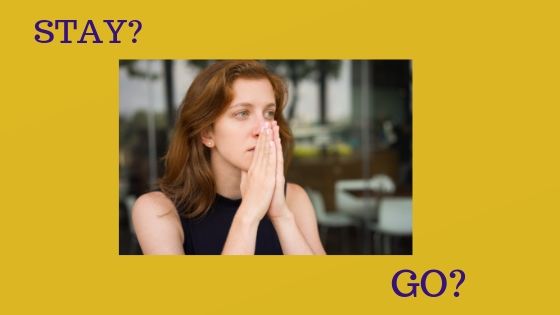 Years ago, when I worked as a vice president at PNC Bank, I faced the difficult choice of staying with my current company or relocating for another job opportunity. I had been with PNC for 10 years and had enjoyed a steady career progression. I was promoted three times starting as a marketing officer and progressing to a marketing manager and then finally moving into corporate communications as the vice president of shareholder communications. And while that job was stressful, there were lots of perks and the people I worked with were very supportive.
Then I was approached by a recruiter about a new position with Lincoln Financial Group in Fort Wayne, IN. I went on the interview out of curiosity, never even thinking that I might be interested in taking the job. Heck, I didn't even know where Fort Wayne was located. However, once I learned about the overall job responsibilities and the significant increase in salary and other benefits, I began considering it more seriously, and eventually said yes!
To complicate matters, PNC made me a counteroffer. After much contemplation, I turned it down, thanked them for the opportunity and began planning my exit.
Many of us have been faced with this question—Is it time to leave my current employer for a new opportunity? Should I stay or should I go? In my case, it was a difficult decision, because I had a solid track record of upward mobility plus, it meant leaving my family and the city in which I grew up.
But how long is too long to stay at a company? In previous generations, working for one company for 25 years or more indicated that you were a good, stable employee. Companies valued these "loyal employee" traits. Nowadays, however, employers are wary of hiring individuals who've worked on one job for ten years or more. They may question whether the employee has learned any new skills.
So, what are some factors to consider for your own career?
Consider the average tenure for your industry—According to the Bureau of Labor Statistics, 4.2 years is the average amount of time employees spend with an employer. In fast-paced industries such as technology, movement is expected (for instance, Google's average tenure is 1.1 years). Conversely, government employees generally stay in place significantly longer than in industry. In government, three to five years in a job without a promotion is the norm. In fact, it's the optimal tenure to demonstrate a track record of success.
Seek out new opportunities—Promotions show prospective employers that you're willing and able to take on new responsibilities and challenges. In fact, employers are more attracted to individuals who have been promoted multiple times within one company than those who have had several jobs at different companies. The reason I stayed so long at the bank was because I was able to take on additional responsibilities in various positions.
You could earn more money—While money isn't everything, it certainly can help with your quality of life. That's why it's important to know your worth. Sometimes, employers can't afford to align your paycheck with market norms. In that case, it might be time to look for a position that provides the financial resources you deserve. Financial security was certainly one of the factors that helped prompt my decision.
Strained work relationships—Strained relationships can stall or even ruin your career if you are not careful. When it comes to the work environment, healthy relationships matter. Strong advocates in an organization is ideal.
Making career decisions is never easy. Be sure to evaluate all options so that you can make an informed decision.
What factors have been important in your decision to stay or leave a job? Please share them with me.