Have You Created a Career Bucket List?
September 12, 2019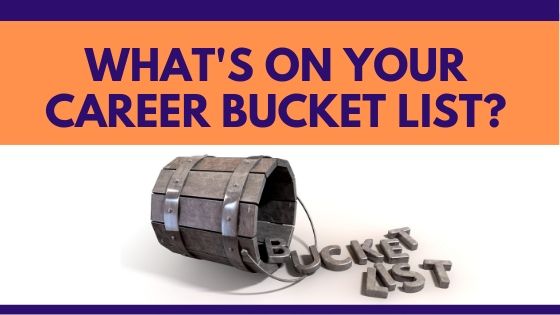 Summer's officially ended. That fabulous vacation is probably a distant memory. We've dropped the kids off for their first day of school after taking those embarrassing photos denoting the grade they're entering. And, our college students are all settled on campus. Whew!!
Now's the time for self-reflection and focus on your goals.
These days, everyone seems to have a bucket list of all the things and experiences they want to do in life. Typical bucket lists include: visiting all 50 states, skydiving (not for me), having children, learning a new language, buying a house, mountain climbing, visiting the Eiffel Tower, etc. But have you ever considered creating a career bucket list?
A career bucket list is effectively a list of professional goals you want to achieve before you retire. While you may have plenty of time to meet them, there is nothing like the present to kick it off! Take it from me; time moves faster than we anticipate. Before you know it, decades will have passed. So, it's best to put a measurable plan in place now.
My niece, Shawnda, has always dreamed of being a maternity nurse. She has a bachelor's degree in biology, but needs additional credits to get her RN license. Over the past year, she researched her options and enrolled in an RN program this fall. This was a significant jump for her as she has been out of college for several years. She called me on her way to her first day of class and confessed that she was both nervous and excited at the same time. I told her this was normal and gave her the "rah-rah" speech she needed to hear.
I'm so proud that she is setting out to achieve her goals—and more importantly, preparing for a career that she has always dreamed of.
Years ago, my bucket list included going back to school and earning a master's degree. I also wanted to work in all areas of communications so that I could one day lead a department. Because of my plan and perseverance, I eventually achieved both goals.
Depending on the career path, everyone's bucket list will be different. But there are eight ideas that might get you started:
Work in a different country
Learn a new language
Strengthen public speaking skills
Own your own company
Lead and inspire others
Get promoted
Work in various roles
Retire early
Creating a career bucket list can help motivate and excite you as you navigate your professional life. While it can be overwhelming, it's essential to map out your plan of action. Then, use your plan of action to add structure to your career path by creating monthly or yearly goals.
Remember—you are the conductor of your own career!