Are You Avoiding the Spotlight?
May 9, 2019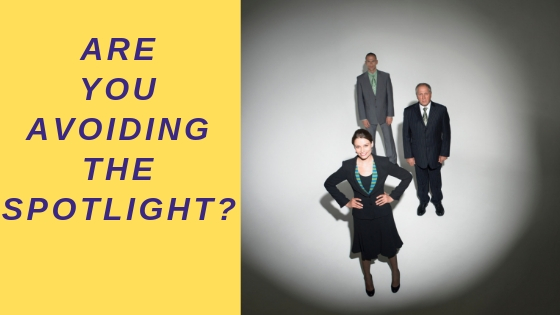 Several years ago, while working for PNC Bank, I was offered a great opportunity to serve as the director of shareholder communications. It was a highly visible position where I would work with the CEO of the company, as well as with a number of C-suite executives.
In my prior role as marketing manager for one of the product lines, I could fly under the radar and if I made a mistake, it was no big deal. However, in this new role the risks and the stakes were exponentially higher. I would be responsible for the corporate annual report, drafting the quarterly shareholder earnings and serving as the backup to the media relations vice president. As an African American woman, I worried that I would stick out like a sore thumb. Did I really want that much exposure? What if I said something to the media that would impact the company's stock price? After much coaching from colleagues, I decided to go for it. It helped that the company had already promoted its first woman executive vice president and she would be my boss. In the end, it all worked out and I was later promoted to vice president.
As the saying goes, "It's not who you know, it's who knows you." And, to get ahead in the workplace, you must be seen. However, based on a 2018 study by Stanford researchers, when it comes to avoiding the spotlight, the struggle is real for many women. Based on 86 in-depth interviews with women in a professional development program, as well as discussion groups and program-wide meetings, the researchers identified three motivations for avoiding the spotlight: to avoid conflict or backlash, to feel authentic at work, and to balance professional and personal demands.
Avoiding Backlash
Many of the women in the study had personally experienced or witnessed situations where women who acted assertively or authoritatively were penalized. So, they thought it was better to be invisible to avoid backlash from bosses and colleagues. They also were aware of gender bias in the workplace and used intentional invisibility to limit their exposure to bias.
Authenticity at Work
Some of the women in the program said that being highly visible felt inauthentic and out of character. They also rejected the executive, self-promoting leadership style in favor of a mission-oriented, team-based approach. Rather than aspire to executive norms associated with masculinity, the women focused on the ethical and economic advantage of behind-the scenes work. And while this allowed them to carry out their work with authenticity, it also kept their contributions from being recognized.
Balancing Professional and Personal Demands
Familial stability was another concern for some women. Since women still shoulder most family responsibilities, they were more likely to embrace intentional invisibility. This gave them more time and energy to fulfill obligations at home.
The researchers recommended three things organizations can do to support women and make it easier for women to be seen and promoted: value unconventional forms of leadership, fight implicit bias, and balance women's second-shift responsibilities.
As I learned, when I overcame my hesitation and instead embraced a highly visible step up, with visibility comes challenges but also greater personal satisfaction and ultimately greater rewards. Better to put yourself out there and prove you have what it takes to succeed.
Have you been avoiding the spotlight? Let me know how you took the leap and what rewards you gained.