Does Your Resumé Need A Makeover?
March 27, 2019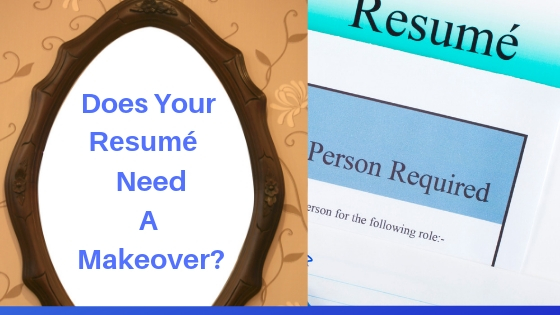 Recently, I was reading through my LinkedIn posts, and there was a young lady who was having a challenge securing employment. She indicated that she had been on numerous interviews but could never close the deal. In a desperate move, she posted her resume to LinkedIn and asked her connections to provide feedback as to what she was doing wrong. I applaud her for being so vulnerable and open to feedback. Several people provided advice and we could all benefit from the feedback including:
Make a great first Impression. Remember a resume is a marketing tool. Gone is the traditional-looking resume. Think of a promotional flyer–the main purpose of a flyer is to give relevant information and catch the reader's attention. Make sure you highlight the most attention-grabbing, impressive details about yourself.
Eliminate typos. Have someone review your resume (as there were a few typos in the person's resume).  When you right your resume it's hard to see obvious mistakes (Did you catch the typo?). In the eyes of the hiring manager or recruiter, it comes off as unpolished and unprofessional. It's an easy reason as to why your resume may get dismissed. So always have someone proofread your resume.
Have a clear objective. Make sure your objective aligns with the type of positions you are pursuing. Based on the young lady's objective, I had no idea she wanted a training and development position. Also, customize each application for each employer.
Focus on core skills. Avoid including information that is irrelevant or doesn't add value. Make sure you include keywords that appear in job descriptions. A machine often reads resumes before a human sees them. Using key words helps to get your resume past the screening systems.
Talk about your results. Instead of listing a laundry list of duties, make sure you also include results. When possible, add numbers that quantify accomplishments. For example, training and development programs increased employee engagement by XX percent and reduced turnover by 30 percent.
Update your LinkedIn. Many people never update their LinkedIn accounts. However, that's the first place employers look for additional information on a candidate.
Taking the time to improve your resume will improve your chances of getting the interview and getting hired.